Watching the recent trailer for Star Trek : Into Darkness got my juices flowing (somewhat) with the promise of a new Star Trek film which will finally begin without having to spend the first hour setting up the characters, situation and the scene. This one should go from the first off. The trailer seems to suggets this, and doesn't disappoint.
Most prevalent on peoples mind is who is British Sherlock actor Benedict Cumberbatch playing? The very insinuation that he is there to represent a character from the original series have got tongues wagging.
Over at Startrek.com they ran a poll on the subject. The result?
Gary Mitchell earned 37% of the vote, just beating 'A new, unknown character', at 35%. Firmly bringing up the rear was Khan Noonien Singh at 28%.
Gary Mitchell was a lieutenant on the Enterprise in the original series second pilot : "Where No Man Has Gone Before", which was also phased in as episode 3 of season 1. Who developed godlike psychic powers and then threatened Kirk and crew.
Gary Mitchell and Kirk face off, Elisabeth Denher lies on the floor. "Where No Man Has Gone Before"- ~Star Trek Tos – S1 epi 3
This is an important episode for a few reasons :
1) It introduced Kirk as the new Captain.
2) The Enterprise went beyond the great barrier at the edge of the galaxy, (revisited in The Fifth Trek movie : The Final Frontier – 1989.
3) And it setup a good counterpoint villain to Kirk, who was once his best friend.

Something which alludes to this actually being G.Mitchell is the appearance of this lady in the new films trailer :
Does she look familiar?
Well, she does look an awful lot like Dr Elizabeth Denher who in 'Where No Man..' was affected and received the same abilities as Mitchell. But it seems to be a complete red herring and the latest reports suggest she is actually [a younger] Dr Carol Marcus – love interest from Star Trek II : Khan. Still, it can't be a coincidence she looks exactly like Denher, could it?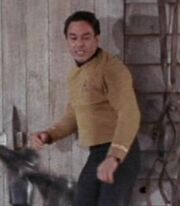 This shows what a great viral campaign Star Trek : Into Darkness has surrounded itself in. Its created quite the hubbub with the announcement of the inclusion of an original series character, as baddie.
According to USA Today the villain is called John Harrison.
A search of the Star Trek Wiki : Memory Alpha for John Harrison brings up a previous Classic series character called 'Harrison'. Is this another red herring?
Think I'd better just wait and watch the damn thing, no more spoilers!
Star Trek : Into Darkness is released 17 May 2013 (uk).