On a trip to the city of Lancaster today, me and the missus decided to have a drive down a bit further to Morecambe Bay – The Lancashire Seaside resort with the bronze Eric Morecambe statue.
Driving down the central promenade we came across a real blast from the past; Frontierland – The Western Style Themepark.
Its mostly gone now bar the front facade, the sky rocket 'polo mint' tower, the saloon themed pub and the Frontierland Water Tower.
Summer 1991
It was the summer of 1991 when my brother brought me to Frontierland. Its one of those experiences as a 12 year old, which stays with you. Its hard to quantify seeing as someone looking at the quality of the rides at Frontierland, might conclude that Alton Towers or Lightwater Valley is better.
Frontierland's Western theme and the added thrill of deathtrap rickety wooden rides, seemed to permeate the visitors consciousness more than its more affluent rival parks.
I remember well the wooden rollercoaster – the Texas Tornado, the walk through Noah's Ark; which was in a bad state of disrepair in 1991 but by that point was 71 years old (built in the 1920′s). The Log Flume, the Ghost Train, the Haunted Silvermine where also personal favourites of mine. You just need to look at the many old video's on youtube to see the fun all the kids had on these rides.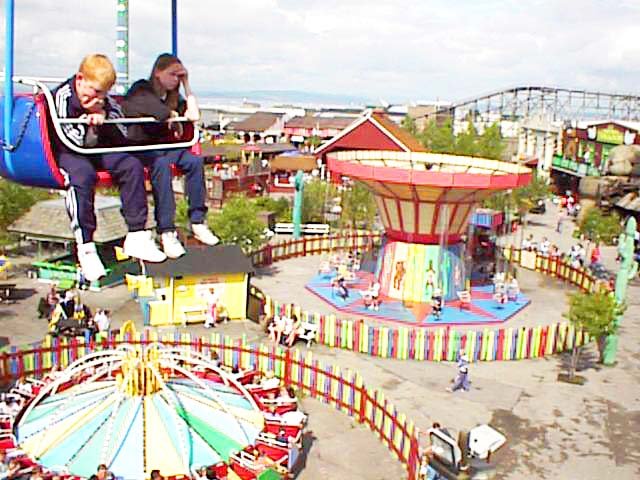 The park was opened in 1906 and operated with up and down visitors numbers for 80 years, before undergoing the Western theme refit which saw the park well up and until 2000 when it closed for good, having slowly downsized and closed rides over the preceding 3 years.
With the rise of Blackpool Pleasure Beach as the county's premier Theme park and the opening of the Pepsi Max in 1996, the slow death had begun.
And so you can't help but share a pang of sadness looking at the remains of what once used to ring with the clickety, clack of ancient coasters and the laughter of small children, but these things move on – I guess.
Going back to the Polomint Sky Rocket ride, they can't knock this eyesore down yet, as a mobile phone company owns the rights to a mast on the top until next year but the site has been muted for a few choice developments.
Lets hope if it all goes, they leave the Water Tower as a permanent marker to the magic and legacy of Frontierland, Morecambe.
The website Frontierland remembered has quite an archive of memories about the park and is well worth a visit, although you will have to pay a small donation to access the site.
Related Vids :
Related Video Search